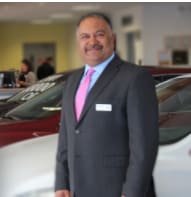 RAJ AHUJA
Lease Renewal Specialist
End of Lease
Turning in your Nissan at the end of your lease seems simple. However, there are a few important things to keep in mind when returning your Nissan. Guelph Nissan specializes in lease returns and makes the process easy for you.
Our Lease Specialist, Raj Ahuja, will walk you through the steps of fulfilling your current lease obligations and explain options for your next vehicle. Contact our lease specialist Raj today to set up your complimentary appointment. We look forward to serving you!
There are three options for you at the end of your lease.
1. Lease or Purchase a New Nissan:
We are happy to hear that you want a new Nissan! We are more than happy to assist you with your car replacement. Leasing a car should be a fun and stress free experience. We appreciate the opportunity to be your dealership. Nissan Canada Financial Services (NCFS) makes this a very compelling option for you with it's Preferred Customer Retention Program
What the program does for you:
Pre-Approval. You may be pre-approved for another lease or loan with NCFS. If you are pre-approved, NCFS will communicate your pre-approval to you in a letter that you will receive 5 months prior to the lease end date.
Exclusive Rate Reduction. As a loyal customer in good standing with approved credit, you will be entitled to receive an automatic 0.25% reduction off of the advertised lease or finance rate.
Waiver of Security Deposit. As a loyal customer in good standing with approved credit, a security deposit will not be required on your next lease.
2. Purchase your Current Leased Vehicle
We are happy to hear that you want to stay with the Guelph Nissan family! We are more than happy to assist you moving forward. We do our best to make your "Lease Buyout" an easy and seamless process. If you purchase your leased vehicle, there will be no excess kilometer or excess wear & tear charges. You will not be responsible for any end of lease costs other than the predetermined purchase price (residual value) and the incidentals outlined in your Lease Agreement plus applicable taxes. Incidentals include the cost of all governmental or other regulatory fees and taxes and all safety standards, emissions and other required certification incurred in connection with the purchase of your vehicle and the transfer of ownership of the vehicle to you.
Should you choose to purchase, and require a purchase loan, NCFS may be able assist you with your financing needs. Please contact our lease specialist, Raj Ahuja for more details.
3. Return your Nissan
We are sad to hear you will no longer be with the Guelph Nissan family. Regardless, we will make this process easy and seamless for you.
NCFS's Customer Remarketing Department will contact you via telephone approximately 30 days prior to maturity to answer any questions that you may have.
Prior to your maturity date, it is strongly recommended that you contact Guelph Nissan to schedule an appointment to drop off your vehicle. You should give yourself plenty time to investigate and explore all of your lease end options to ensure that you make a knowledgeable, well informed decision. Guelph Nissan will ground your vehicle in your presence using an internal website. At time of drop off, Guelph Nissan will print off an NCFS Grounding Receipt to be signed by both you & the Dealership. This form is a receipt acknowledging the date that you returned the vehicle. The grounding receipt is not a vehicle inspection report. An independent 3rd party inspector will complete a detailed condition report within 48 hours of grounding. The condition report is then used by NCFS to determine whether the vehicle has suffered excess wear and tear charges or has been driven beyond the allowable kilometers which would then be charged to you.
To avoid any unpleasant surprises or excess wear and tear charges, it is highly recommended that any potential excess wear & tear issues be remedied by you prior to grounding the vehicle.